Over on my right sidebar,
you may have noticied a collection of blog buttons under Events.
One of these upcoming events is all about wool with 9 giveaways.
The event button looks like this: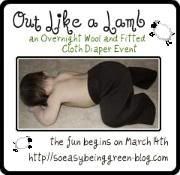 If you LOVE wool or are just curious about it,
you won't want to miss this event.
All the fun begins on Monday March 14th
for helping promote the event
(like how I'm blogging about it) thru March 13th.
Happy Winning!!!